(+39) 0932 712 273

info@fondazionebufalino.it
Nunzio Zago
Scientific committee director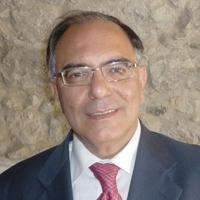 Comiso, 1949
After graduating from classical studies, in 1973 he graduated in Literature from the University of Catania. He was Researcher of Italian Literature at the Faculty of Letters of the University of Catania; from the academic year 1991-92 he was entrusted with the teaching of Methodology and History of Literary Criticism. At the end of 1999, he moved to the Faculty of Foreign Languages ​​and Literatures of the same University, becoming the holder of the chair of Italian Literature at the Ragusa branch, first as an associate professor and then as full professor. He was president of the degree courses of the Faculty of Languages, seat of Ragusa, and then dean; then, for four years (until 31 October 2016), president of the Special Didactic Structure of Foreign Languages ​​and Literatures of Ragusa.
In addition to numerous essays published in magazines and collective volumes, he has written the following books: A poet of the "Toscanina". Antonio Guadagnoli (Flaccovio 1981); The Leopards and the Hyenas (Sellerio 1983-1987); Gesualdo Bufalino (Pungitopo 1987); Giuseppe Tomasi di Lampedusa (Pungitopo 1987); The shadow of the modern. From Leopardi to Sciascia (Salvatore Sciascia Editore 1992); Cento Sicilie (with G. Bufalino) (La Nuova Italia 1993, then Bompiani 2008); Sicilianerie. From Tempio to Bufalino (Salarchi Images 1997); The reticent word in the 'Decameron' and other essays, (Salarchi Immagini 2000); Tale of Sicilian literature (Maimone Editore 2000); Voices of Italian literature between 'good governance' and other moralities (Quaderni del Modern Philology Department of the University of Catania 2003); Brancati and the wind of Pachino (Municipality of Pachino 2005); From Dante to Brancati (Salvatore Sciascia Editore 2006); Tomasi di Lampedusa (Bonanno Editore 2011); Dante and Boccaccio (Euno Edizioni 2013); The spells of the word. Studies on Gesualdo Bufalino (Euno Edizioni / Fondazione Gesualdo Bufalino 2016). He edited, among other things, the Carteggio di giovani (1943-1950) by A. Romanò and G. Bufalino (Il Girasole 1994); editions of the Menzogne ​​della notte by G. Bufalino for Bompiani (for the 1991 High Schools; for I Tascabili Bompiani 1995); of the Viceroys of F. De Roberto for the Universal Library Rizzoli (BUR) 1998; of Canne al vento by G. Deledda (BUR 2008); de L'Imperio by F. De Roberto (BUR 2009); de L'Illusione by De Roberto (BUR 2011). He published, in an off-trade edition Bompiani-Fondazione Gesualdo Bufalino, the unfinished novel by Bufalino, Shah mat. Capablanca's last game (2006).
He is a member of the Scientific Committee of the Fondazione Verga di Catania. He was a member of the National Board of the Italian Association of Italianists (ADI).